I'm busy working on my blog posts. Watch this space!
Please reload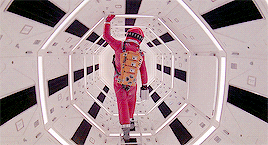 Our latest collection is inspired by the one and only Stanley Kubrick and his film, 2001: A Space Odyssey.
The color palette, the compositions, the sounds, the shots, the pace...it gets us to our core.  It's what we live for.  As actors and filmmakers, it's what we crave, what we dream, and what we want to experience and create.  As designers and vintage hoarders, it's what we want to wear. 
Recently, Kim and I went to see 2001: A Space Odyssey at Village East Cinemas. We felt so lucky to be able to watch it the way it was played in the cinemas when it was first released in 1968.  No comparison to watching it on TV or your laptop.
It played in two parts with an interlude.  When it first began, the dimly lit, ornate theater was filled with beautiful classical music that played for five minutes before the lights went completely out and the film began. The second half began the same way.  Pure magic.  We saw a late showing, probably no more than 20 people in the theater, and it was really intimate and exciting to share that experience with strangers.
The film was released 50 years ago and it is still relevant.  If you are in NYC or another city, find showtimes and go watch 2001: A Space Odyssey in the dang theater.
So,   
like we did with HOMETOWN, we created a vintage capsule collection this time inspired by all the stunning beauty, colors, and mystery of 2001 as well as some influences from our other favorite 70s sci-fi films [Andromeda Strain (1971) and Soylent Green (1973)]. 
Ultimately, looking for the pieces for this collection....it made us so happy.  It felt like we were buying pieces for the film...except now you can actually own them!  So, for you like-minded, vintage loving, movie-obsessed people who want to look unique and experience a little star-dust while you go out into the world......
Please reload